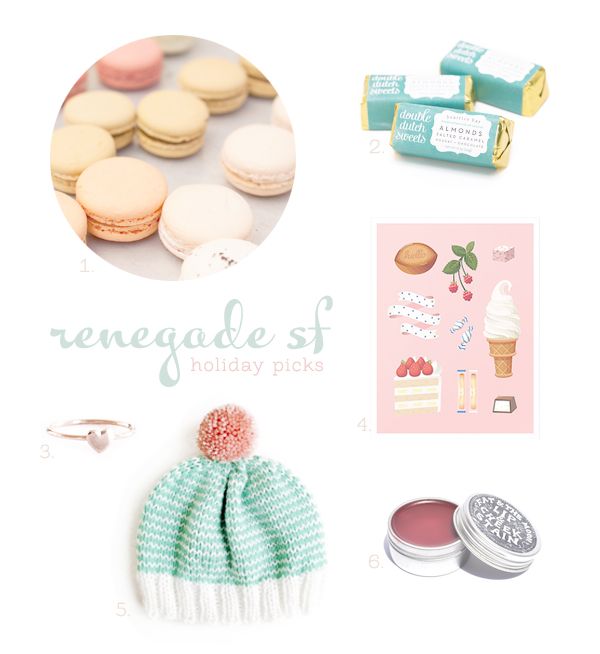 This weekend will be our second time attending the
Renegade Craft Fair Holiday Market
in San Francisco. Last year was a bit of a letdown because we got there only hours before it closed and it was absolutely swamped, so I'm hoping this year we'll get there earlier and have more time to look around without feeling so rushed. I did my customary browse through all of the vendors' links and picked out a few neat things.
1. Macarons from
Sweet Pistachio
2.
Beatrice Bars
from Double Dutch Sweets
3. A
heart ring
from SeoulLittle
4.
Pink Dessert Art Print
by Clap Clap Design
5. Mint & pink knit hat by
Quiet Tiger
6.
Lip & Cheek Stain
from Fat and the Moon
So far I've purchased all of this year's Christmas gifts from Etsy sellers and other small businesses (I'll be blogging all about those great shops, but it'll have to be after Christmas of course). I feel like I've gotten so much, but there are still so many people on our list (mostly Jose's people, and he's not the best at choosing gifts), so I'm hoping we can finish everything up at Renegade. Most of all I'm looking forward to seeing
Twinkie Chan
and a few other wonderful crafters again!