My birthday is tomorrow, which kind of blows my mind! I actually sort of forgot it was so close, until last week at Disneyland when a very nice cast member asked me when my birthday was. To my surprise, I ended up with a birthday pin and a phone call from Goofy. So it's time for my yearly dreamed-up birthday party inspiration board. I don't remember the last time I had an actual birthday party, with invitations and people coming over, but I like creating these imaginary celebrations. Of course I do get fireworks, which I'm not particularly crazy over, but as I always hear whenever I tell people my birth date, not many people get fireworks on their birthdays! The sea foamy and gold palette was inspired by a
photo
by
Jose Villa
&
Enjoy
.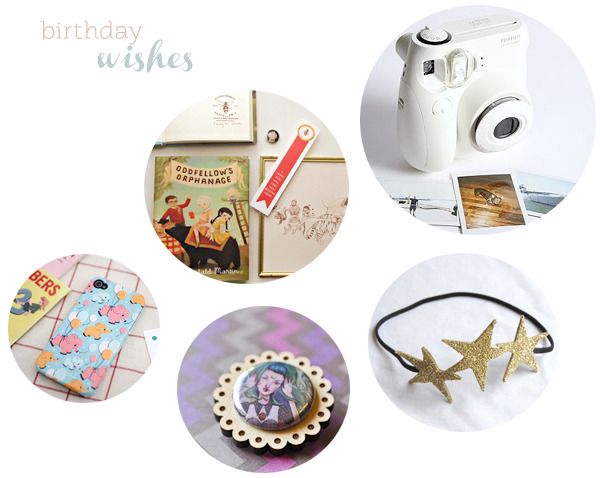 I would love to have Emily Martin's
signed book and print set
, and I'm still dreaming of an
Instax Mini
. No wish list of mine would be complete without something from
Giant Dwarf
! I have wanted something by Danny Brito for years, and I especially love his
cameo brooches
because there are so many of his wonderful illustrations to choose from.
My real birthday present was a slightly early one: the iPhone I got on Sunday! It's so fancy, I can barely believe I actually have one. Now I'm on the lookout for a nice case for it. I think
this one
is so cute! There are so many choices, I don't know how I'm going to decide on one.
For those of you in the States, I hope you have a great Independence Day, and for my friends outside the US, have fun on my birthday, hehe!