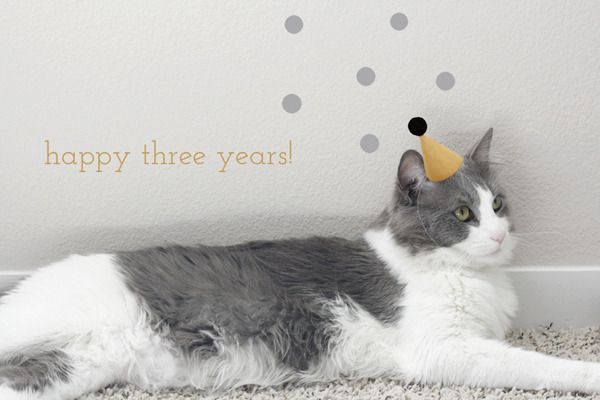 On this day, exactly three years ago, the sweetest kitty of all time came into our lives! I don't think I've ever shared Lily's story here before, so I thought now would be the perfect time. Jose was out doing a photo shoot with his model and friend Suzanne. They were shooting in some tall grass near the railroad tracks, when a tiny kitten wandered over to them and started mewing. The poor little kitty was covered in dirt, had a sore on its nose, and looked like it hadn't eaten for a long time. They continued taking photos, and the kitten followed them everywhere. Eventually they incorporated the kitty into the photos. As they finished up, the kitten followed them to the car and got in. They bought some milk and cat food, and went to the park for lunch, where the kitty never left their side. Jose texted me that he had found a kitten and that we were keeping him, and at the time I'll admit I was not too keen on the idea. I didn't think we could fit two cats in our tiny apartment, and I was also not too happy with Sweeney, the mean cat we already had. But as soon as I saw him, I was totally in love. He had a tick in his ear, which Jose was able to remove. Kitty calmly sat through a bath, without complaint. You might've guessed that we believed Lily to be a girl - the vet told us so, but when I spotted something that was decidedly
not
a girl part weeks later, the name Lily suited him so well, we just kept it that way. I took the picture below the day we got him, and
this
is the first picture I ever took of him!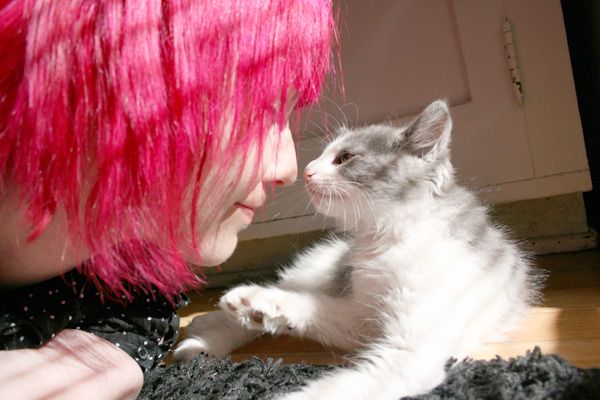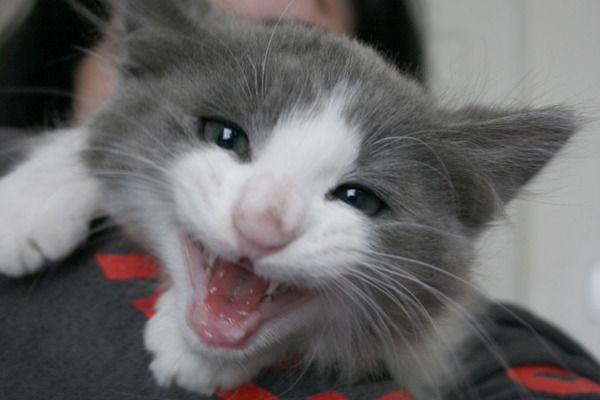 One of my favorite things he does is what I call his "meow face." He's done that silly face since he was little.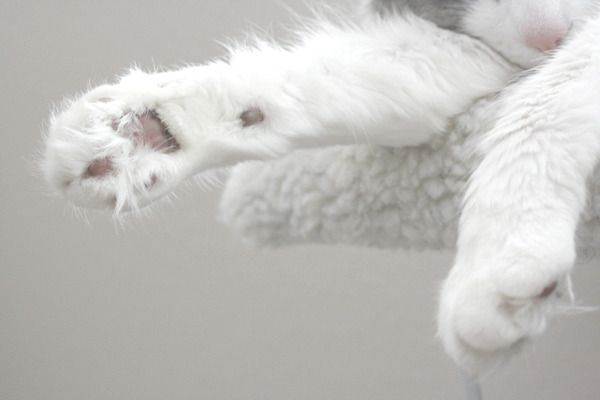 I'm so glad Jose brought that kitten home, because I can't imagine life without Lily! He's such a sweet guy; he loves to cuddle, and sleeps right next to me every night, like a loudly purring teddy bear. He also nuzzles my face, which kills me because I've never had a cat that was so comfortable right in my face before. I think he likes the sound of his voice, because he's always walking around the house chattering away. My favorite is when he jumps onto or off of something, he always lets out a little chirp, like he's saying "Here I am!" Lily has had kind of a tough life, from being abandoned as a baby, to all of his health troubles last year, but he's doing so well now. I can hardly believe it's been three years, it feels like he's always been with us. Happy three years, little buddy! AKA Lily-cat, Lily-kins, kitty-kins, floofy-tail!
Of course, some things never change! He still plays with my shoes.


Here's a silly little video made up of clips of Lily over the years. There's a clip in there from when he first found Jose on the train tracks, his meow face, running around on the stairs and other random moments. You can see photos from the shoot where Lily made his modeling debut here:
1
2
3
4
.
The party hat and dots in the first photo were found in
this
adorable shop.
I would love to get the real hat for Lily but I know he'd never go for it.