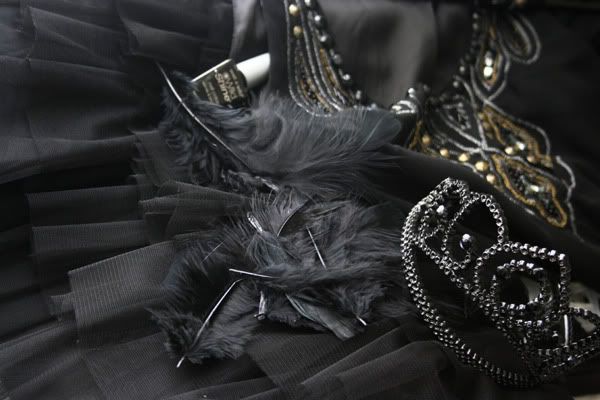 About a week ago, I was lucky enough to receive a ticket to the 2011 Spike
Scream Awards
(which airs tonight, be sure to watch!). This is a particularly fun award show to attend, because the audience members get to dress up in costumes. We were asked to dress as one of the nominees, or in generally sci-fi or fantasy costumes. When I saw that
Black Swan
was nominated in a few categories, I immediately knew what to do.
Since I'm on an extremely tight budget, every part of my costume was something I already had in my closet, aside from a tiara, which I bought for two dollars at Target and spray-painted black, and some black netting material to use for a veil and a feathered sleeve, which was also around two dollars.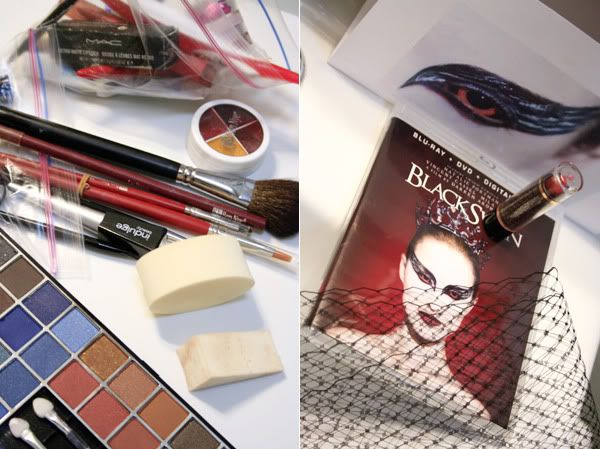 I was looking forward to the makeup most of all, since it would be the element that really made a difference in the quality of the overall look. I had to send in a photo of myself in costume so the show's producers could approve it, so a few days before the show, I gathered everything together and applied the makeup, then Jose took a few pictures of the final costume.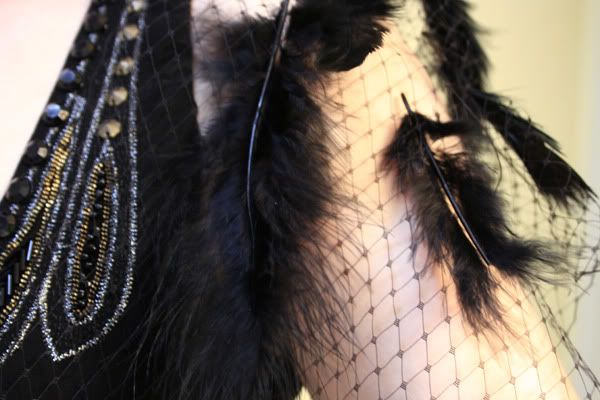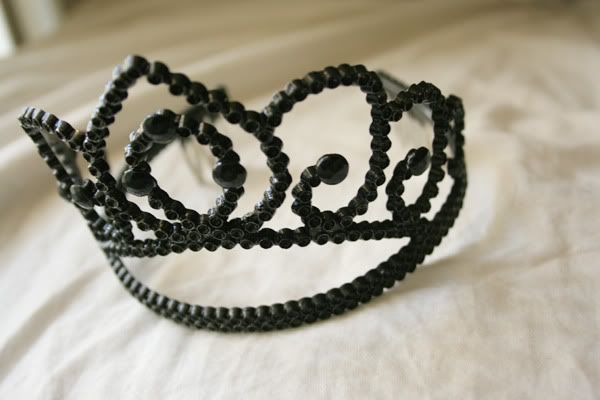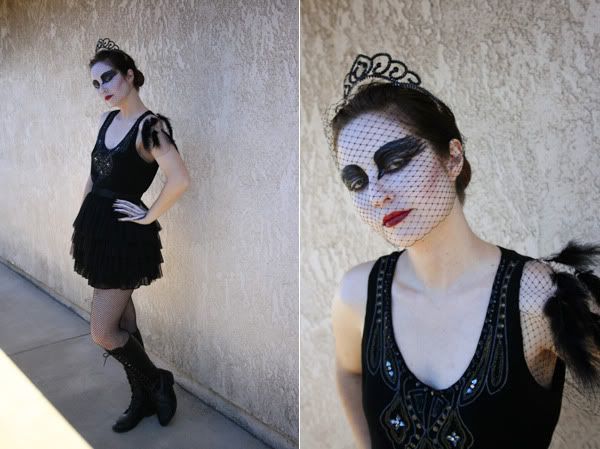 I tweaked the costume slightly, wearing boots and fishnets instead of ballet slippers and white tights, because it was much more flattering and would also fit better with the aesthetic of the show. I think everything came together quite well, myself, especially for mostly using things I already had. What do you think?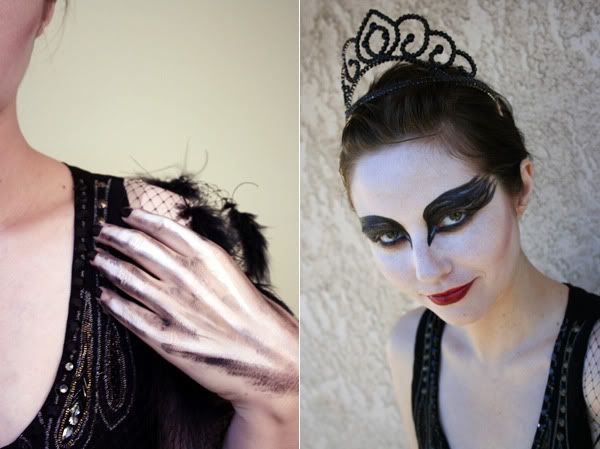 I really loved how the makeup artist for the film painted Natalie Portman's hands as well. That was one detail I definitely wanted to incorporate into my own costume.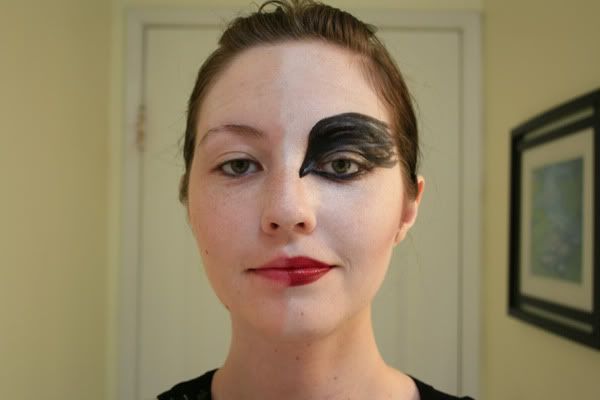 Going to the show by myself meant that I needed to be totally in costume before I left for Universal Studios. Which also meant that I would be driving in full makeup and a tiara for three hours on the freeway in broad daylight, which felt a little silly.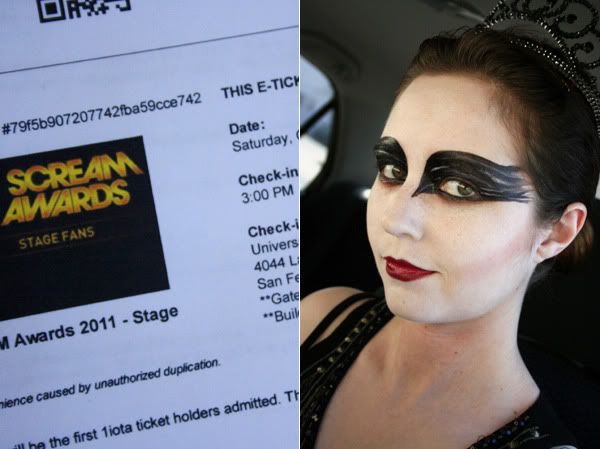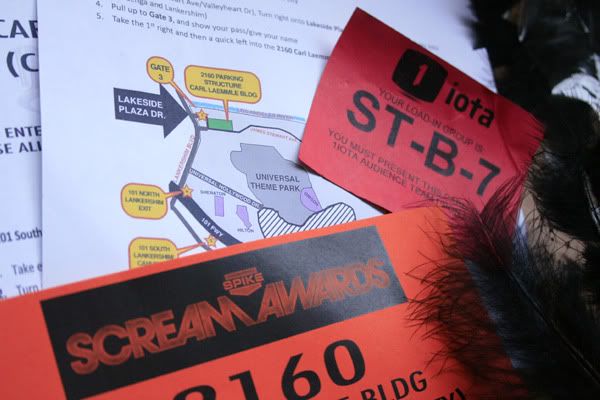 Once I got to the studio gate, I parked and then stood in line for a while as I finished my hand makeup. We all started walking to the shuttles to drive us to the venue, and it was then that I unfortunately lost the veil for my face, darn it!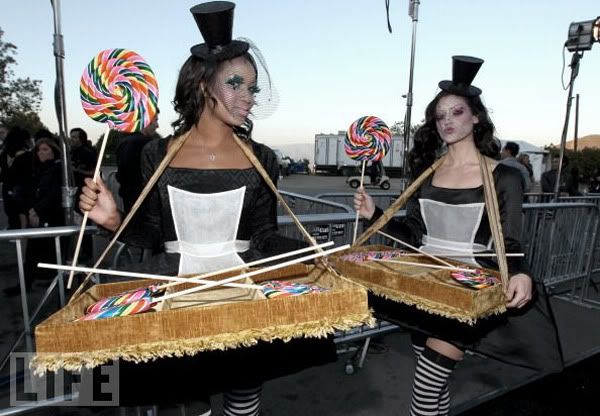 Our tickets specified that we could not bring cameras or cellphones with us, so I left mine in the car. I regretted that, because everyone else brought phones, and some even brought cameras and were snapping away right in front of security. Next time I won't be making that mistake! I would have taken lots of pictures because everything looked amazing! Since I don't have my own, the rest of these photos were found on the internet. The show had sort of a carnival sideshow theme, complete with circus performers doing tricks. The set was outrageous! My seat was on the stage at one of the tables.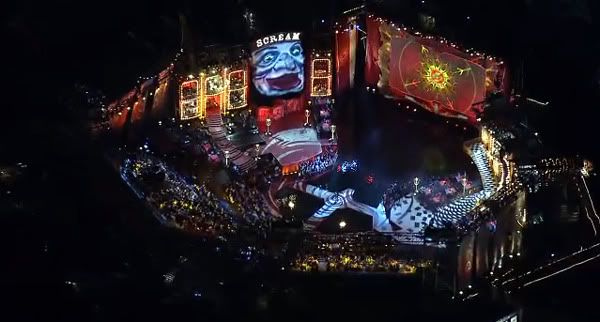 You can see me in the photo above, on the far right.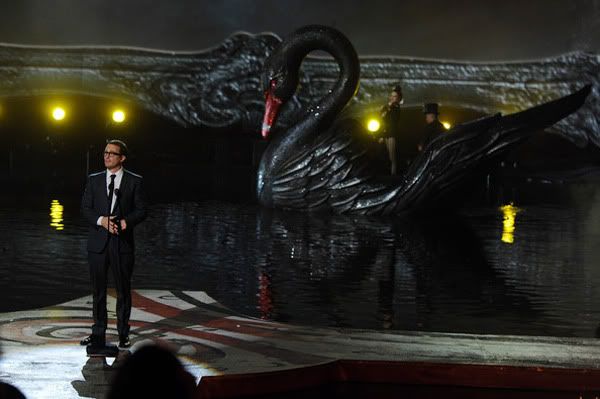 During one of the breaks, I was moved to sit with a bunch of other girls in black or white swan costumes. I wasn't told the reason we were sitting together, and then I looked over at the table next to me. Darren Aronofsky (director of
Black Swan
) was sitting right there, surrounded by swan girls, myself included.
Wow
. I think I may have stared a little. When he went up to accept the Best Director award, he walked right by me. That was so neat!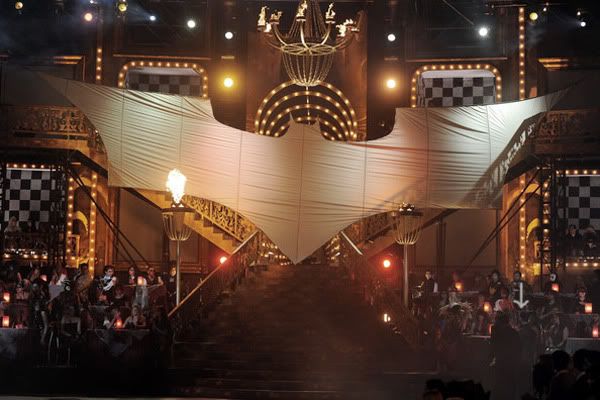 In the photo above, the arrow shows my seat for most of the show. In that photo, the arrow is actually pointing to Joseph Gordon-Levitt, Anne Hathaway, and Gary Oldman waiting to accept an award. They were talking to our table about how awesome our costumes were. So crazy! I could have touched them, haha.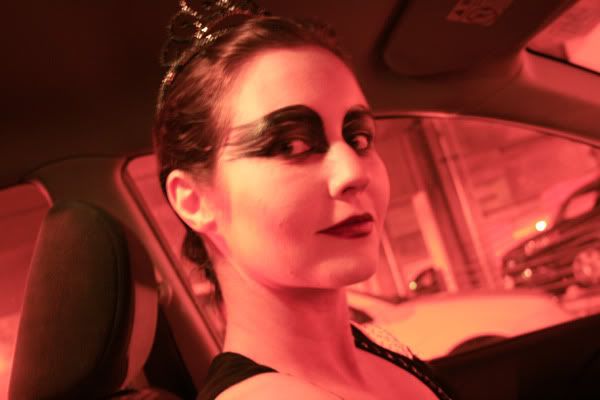 It was totally worth it to be outside freezing and hungry the whole time (everyone in the audience got free food and liquor, except for those of us on the stage, I guess they didn't want to film people eating)! How many people can say they were able to have this experience? Make sure you watch the
Scream Awards
tonight at 9/8 Central (or I'm sure it'll probably rerun quite a bit) on Spike TV, maybe you'll see me! I'll be screen capturing it of course. There were lots of Black Swans, just look for the one with the best makeup, hehe.