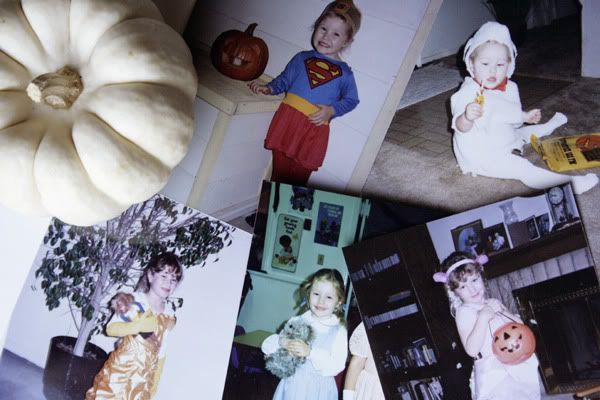 I love this month in Blogland because a lot of my favorite bloggers have been sharing old pictures of themselves in costume. Here is a look at all of the pictures I could find of my past costumes. For my first Halloween, at four months old, I was a ballerina. At one, my mom dressed as a sheep, and I was a lamb. I look pretty hilarious at two as Supergirl, wearing a Burger King crown for some reason.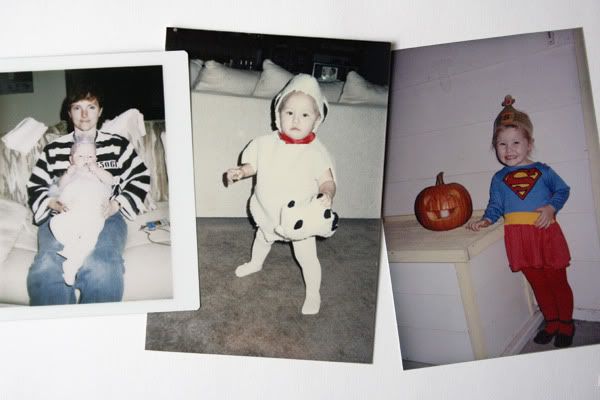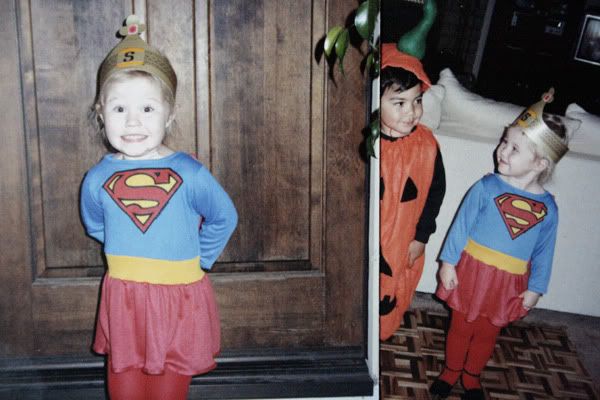 I was a ballerina again when I was three, but there's no actual picture so instead you get to see a very awkward picture of me in a tutu. At four I was Dorothy, complete with stuffed Toto, and at age five, my mom made a My Little Pony costume. Our kindergarten class walked in a line through all of the classrooms at school, and I remember being so mad when a few bigger kids remarked "Aw, look at the cute little bunny!" I guess my ears were a bit long.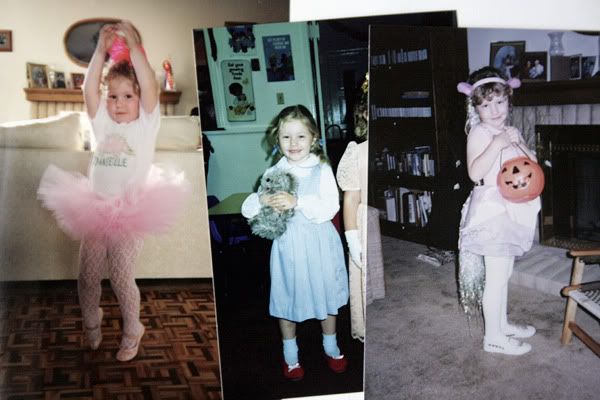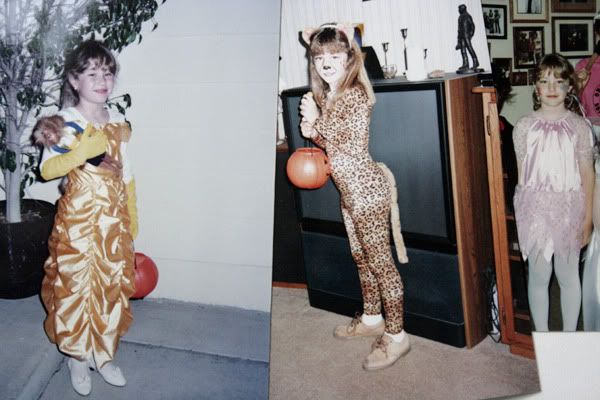 I was a black cat when I was six but there are no photos. At seven, I was Belle, and carried around my little Beast doll. I was a cheetah when I was eight... gotta love the crimped hair! As a pixie at nine, we had a Halloween party at my house, which I don't remember too well, but I do recall that we bobbed for apples.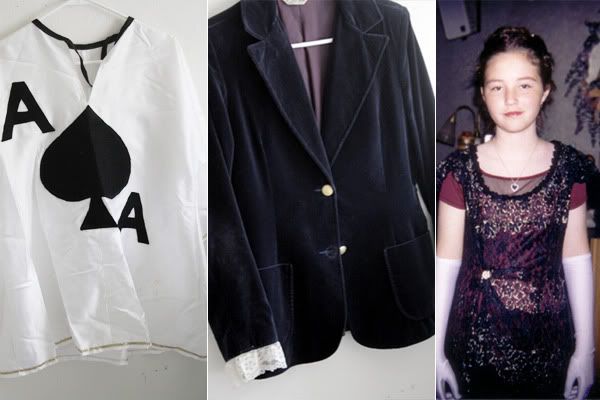 I was a playing card when I was ten, and then in a particularly weird and nerdy turn at eleven, my sixth grade class went to see the musical "1776" and I decided to be Thomas Jefferson. I sure do wish I had a picture of that! I still like to wear the velvety jacket from time to time. Twelve was sort of a cringe-worthy year, when I went as Rose from
Titanic
.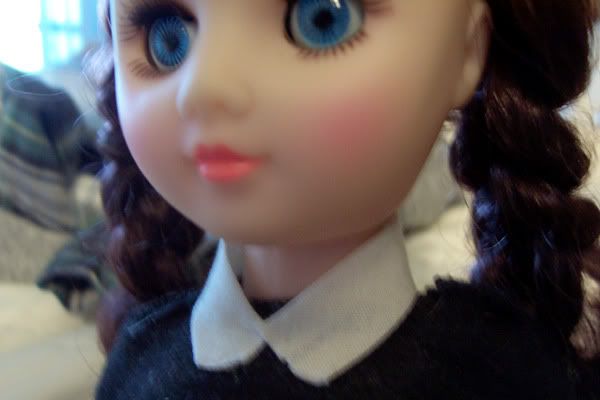 Thirteen was the one year I didn't dress up at all, because we went out of town, and I was pretty sad about it. Here's where photo-taking sort of fell by the wayside for quite a while. I dressed as an angel when I was fourteen, pink-haired Gwen Stefani at fifteen (another I really wish I had a photo for), a Victorian ghost for sixteen, and Wednesday Addams at seventeen.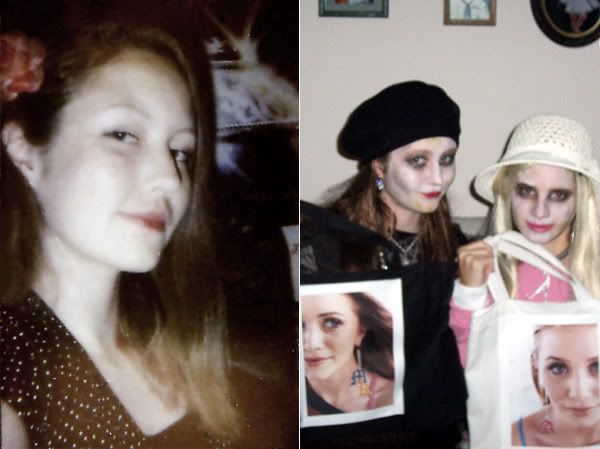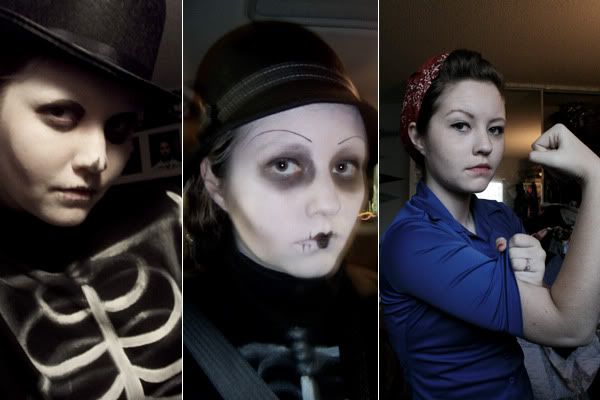 Halloween during the college years was kind of tough because for most of the time I didn't really have people to celebrate the holiday with, since my cousin Jamie wasn't very interested in Halloween, and most of my friends lived a bit far. I did go with friends to a concert at eighteen, when I dressed as a Swing Kid. At nineteen I roped Jamie into going with me as zombie Mary-Kate and Ashley Olsen. Then at twenty I got her to dress up with me as The Corpse Bride and Bonejangles. Twenty-one was really the year I started doing last-minute costume planning; I guess I was a flapper skeleton. At twenty-two I had to attend play rehearsal on Halloween so I dressed as a low-key Rosie the Riveter. Since then, I've been sharing my costumes here on the blog, so you've probably already seen my Sweeney Todd, Poe's Raven, and Sally costumes from the past couple of years, and my Edward Scissorhands and Lost at Sea costumes from last year.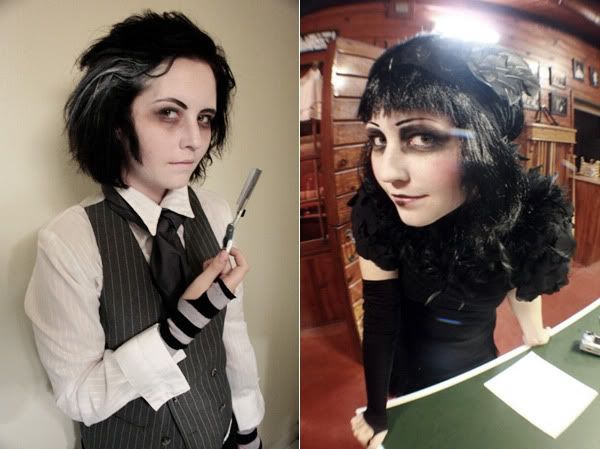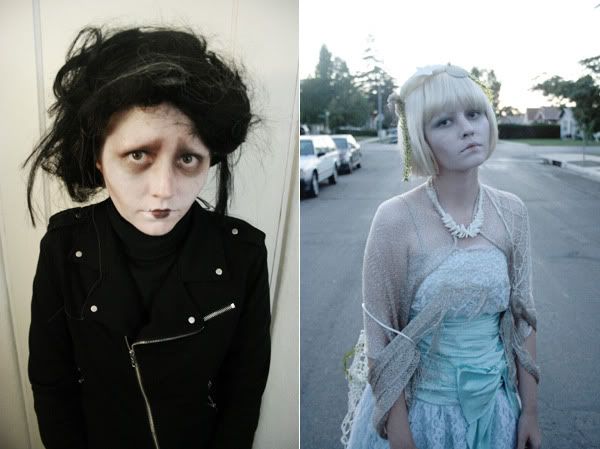 I still have no idea what I'm doing for this year. I'll probably go as the Black Swan again for one of the days, but I hate to wear the same exact thing more than once so I'll have to try and come up with some other ideas since we have a few festivities lined up throughout the weekend. We'll just have to see! Do you have any exciting plans for Halloween? I can't wait until we have a home where we can throw elaborate Halloween parties!