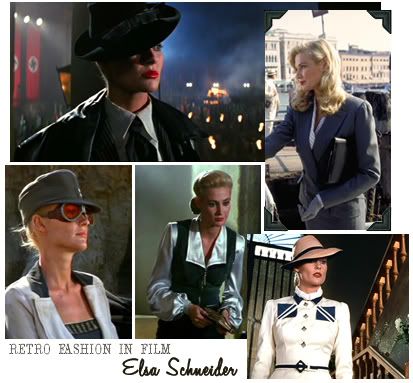 I love movies set in the early part of the twentieth century. I'm very interested in the soundtracks, production design, and especially the costume design of such films. It's fascinating how something made fairly recently can immerse us in decades long since past. Many times I find myself wishing I could raid the closets of some of the leading ladies.
Indiana Jones and the Last Crusade
is one of my very favorites of these movies. Elsa Schneider is the lovely Austrian lady-villain who betrays Indiana Jones in her search for the Holy Grail. Let's overlook the very unfortunate fact that Elsa is a greedy Nazi who falls to her well-deserved death, and focus on her fantastic outfits. I read somewhere that Elsa's costumes seem to go from classy to plain tacky as the film progresses, and while I tend to agree, I think all of her looks are fun just the same.

This is the ensemble Elsa wears when she first meets Jones and Brody. I wouldn't want to swim through rat-infested catacombs in a tailored suit, but Ms. Schneider pulls it off.


This one is a combination of two costumes, which can be mixed and matched quite well. Add the blue scarf and Indy's signature fedora, and you'll have a Nazi-proof disguise.
Elsa's desert look is probably the least practical of these, but I still think it's cute. You'll need lots of hairspray to keep your 'do glamorous through all of those sandstorms (or while dropping through a giant crack in the earth).